REVIEW: James Conlon's CSO return is gratifying in Wagner, Tchaikovsky

Over Thanksgiving weekend, the Cincinnati Symphony Orchestra welcomed back an old friend to Music Hall. James Conlon, music director laureate of the Cincinnati May Festival, returned to lead a rewarding program that included Tchaikovsky's rarely played Symphony No. 1, "Winter Daydreams."
Conlon, who is presently the music director of the L.A. Opera and principal conductor of the RAI National Symphony Orchestra in Turin, Italy, headed the May Festival for an unprecedented 37 years. Returning to the Queen City is always emotional, he told the audience on Saturday night.
"I feel deeply attached to Cincinnati and the Cincinnati Symphony Orchestra and of course, the May Festival," he said. "I made my debut here 41 years ago. It's played a major role in my life."
It was evident from his warmly expressive interpretations that he knows the orchestra inside and out. And despite the recently revamped acoustics of Springer Auditorium, he knew exactly how to achieve a refined balance and rich sonorities in the orchestra in Saturday's concert.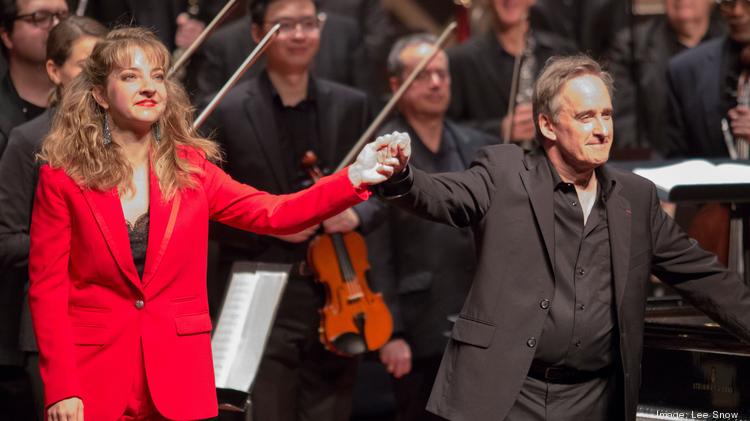 The lush, glowing sound he summoned was striking in Wagner's Prelude to "Die Meisternger von Nürnberg," which opened the evening, a work that figured in the CSO's first season nearly 125 years ago, in January 1895. The noble themes of Wagner's opera — based on a guild of Mastersingers in old Nuremberg, Germany – unfolded majestically. As he led without a score, Conlon's tempos were spacious and unhurried, and the opera's humorous moments came alive in the winds.
For the centerpiece, French pianist Lise de la Salle made a return visit, this time in Schumann's Piano Concerto in A Minor. Of course, many pianists have put their personal stamp on this much-loved concerto, starting with Clara Schumann, for whom it was written.
De la Salle, who began piano at age 4, possesses a steely technique and already has an Impressive discography. Her execution of the concerto's opening flourish was firm and clear, and she approached its lyrical themes with freshness of spirit. It was engaging to watch her turn to communicate with orchestral soloists, including a beautifully shaped dialogue with principal clarinetist Christopher Pell. The first-movement cadenza was a blend of thoughtful phrasing and technical brilliance.
The Intermezzo was quite slow, introspective, and somewhat meandering. That was only the prelude, though, to a super-charged finale, where the pianist put her dazzling technique to work. Her tempos were driving as she flew through its arpeggios and glittering runs. Somehow, Conlon and the orchestra always managed to find the downbeat with the soloist as she raced ahead. Listeners were instantly on their feet.
It was exciting playing, but I would have liked more poetry and beauty of tone. However, de la Salle made up for those omissions with an exquisitely played encore: Chopin's Nocturne in C-sharp Minor, Op. Post.
Conlon concluded the program with Tchaikovsky's Symphony No. 1 in G Minor, subtitled "Winter Daydreams" by the composer. A work of Tchaikovsky's youth (age 26), it looks ahead with musical gestures that have become familiar to listeners through his later symphonies and ballets.
The first movement, evocatively entitled "Reveries of a Winter Journey," is distinctly his own, with a kind of Russian melancholy to its opening theme in flute and bassoon. Conlon illuminated every detail in the score and kept textures transparent in this atmospheric work, which sometimes seemed more tone poem than symphony. The musicians responded with colorful, precise playing.
The second movement, "Land of Desolation, Land of Mists," offers some of Tchaikovsky's most magical, folk-like melodies. Conlon's view was tender as he guided these nostalgic themes, starting in oboe, graduating to violas, and glowing magnificently when the horns took a turn.
The scherzo had all the lightness of Mendelssohn, which the conductor led crisply. At its center was a charming waltz, led with just enough sweep. Conlon cultivated a dark color in the strings in the finale's somber introduction, which was infused with Russian soul. A terrific passage for the brass announced this movement's main theme. Conlon's leadership was energized, and he steadily built to its triumphant coda.
The CSO continues its season with Schumann's "Paradise and the Peri" featuring the May Festival Chorus at 8 p.m. Dec. 6-7 in Music Hall. Tickets: 513-381-3300, cincinnatisymphony.org.
Originally published at: https://www.bizjournals.com/cincinnati/news/2019/12/01/review-james-conlon-s-cso-return-is-gratifying-in.html?ana=TRUEANTHEMFB_CI